Composite Polishing Kit (32 Diamond Burs, 12 Silicone Polishers & Omega Polishing Paste)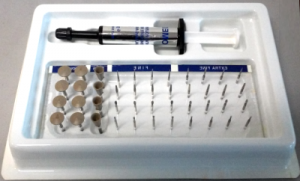 CONTENTS:
Extra Fine Dental Diamond Burs
4-Balls
4-Flames
4-Footballs
4-Gingival Curetages
Fine Dental Diamond Burs
4-Balls
4-Flames
4-Footballs
4-Gingival Curetages
Composite Polishers
8-Knives
4-Cups
Omega-Dental Polishing Paste
Omega-Dental polishing paste for composite restoratives, amalgam, and castings. Omega dental polishing paste is cohesive.
US$155.00 Add to cart
Omega-Dental Polishing Paste (6g)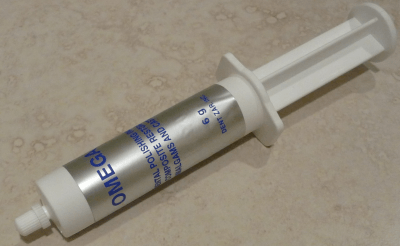 US$18.50 Add to cart
Composite Polishing Kit (9 Silicone Polishers)
CONTENTS

:9 silicone polishers
1.SK 213 2 White pointed polisher
2.SK 214 2 White pointed polisher
3.SK 202 2 White bullet polisher
4.SK 213 3 Green pointed polisher
5.SK 214 3 Green pointed polisher
6.SK 202 3 Green bullet polisher
7.SK 213 5 Pink pointed polisher
8.SK 214 5 Pink pointed polisher
9.SK 202 5 Pink bullet polisher
US$24.00 Add to cart
Diamond Polishing Set Zirconia for Low Speed Contra Angle Handpiece (12 Pieces)

Features:
Soft silicone, and diamond polishers for composite materials.
Instructions:
1. For low speed contra angle handpiece.
3. There is no need for the polishing paste, very little pressure is needed, apply with the touch intermittent motion.
Steps:
1. Red ring (white ceramic grinder)= 1st step: Use for the removing and contouring. Rec. 10,000-12,000 rpm.
2. Yellow ring (blue silicone polisher)= 2nd step: Use for smoothing and per-polishing. Rec.10, 000-12,000 rpm.
3. White ring (light pink diamond polisher)= 3rd step: Use for high gloss polishing. Rec 7,000-10,000 rpm
US$35.00 Add to cart
High Quality Disposable Prophy Brushes Snap-On Tapered 144 pieces
US$48.00 Add to cart