Features:
10W of power LED
Constant light intensity
Elegant design, and convenient in use
Noiseless operation
Low battery alert
Three working modes: strong, gradual strong, and flashing
Specifically designed charger base can be used as the handle holder
Worldwide use-100V-240V
Cures resin with the wave length of 420-480nm
High capacity lithium battery
Specifications:
Battery capacity: 2200 mA/h 3.7V
Input voltage: 110-240V, AC, 50-60Hz
Wave length: 420-480nm
Light power: 1500mW/cm²
Spectrum range: 420-480nm
Death of cure: 5 seconds/3mm
Time intervals: 5 seconds to 40 seconds
Battery standby time: 90 days
LED light with a fully charged battery can cure for over 2000 seconds, or over 200 uses per charge at 10 seconds per use
Hand held LED unit size: (16.8 x 2.2) cm
Package size: (19 x 9.5 x 6) cm
Color: May vary, and it may be different from the picture above
Packing List
LED Curing light unit
Curing light guide
Eye protector
Charger
Power adapter
Instructions
Special offer:

order one LED light for $99.00 and get a second one for $69.00, three for-

$267.00

and four for-

$336.00, etc

. The price is shown in the cart.
US$99.00 Add to cart
10 W Wireless LED Dental Curing Light
Special: order one unit for $125 and get a second one for $95.00.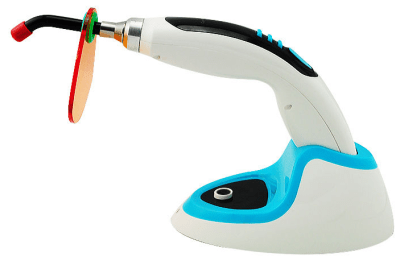 A high quality LED dental curing light has dual functions: curing light, and tooth whitening accelerator.
Large capacity lithium ion-battery.
Noiseless, no vibration, and generate very little heat while working.
Technical Specifications
Blue-ray output wavelength: 460-465nm2
Power density: 1800mw/cm2.
Three modes: brightness increases gradually, bright, and very bright.
Output can be adjusted from one to ten seconds.
Blue-ray illumination: 5W≥18.
Depth of cure in six seconds: 2-3mm.
Technical Parameters
Temperature: 0℃ to +60℃
Relative humidity: 10% to 75%
Ambient pressure: 700hpa to 1060hpa
Output power———10w
Size ——————— 230*170*110mm
Weight——————500g
Working voltage—–100-240V AC, 50-60HZ
Packing List
LED unit
Curing light guide
Rechargeable battery
Battery charger
Eye shield
Instructions
US$125.00 Add to cart
 4 LEDs Teeth Whitening Bleaching Light Table Type
Features:
4 powerful LED bulbs emit cold blue light
Time display screen shows the whitening time.
Technical Data
Power Supply: AC 100-240V, 50/60HZ
Power: 12W
Wavelength: 420~480nm
Light Size: 18*64mm2
Light Timing: 0~20 mins
Power Instability: < 1%
Package
Teeth Whitening Light Lamp  x 1
US$175.00 Add to cart
Tunable bleaching time with microprocessor-controlled time presets.
High efficiency goose pipe design, adjust angle at random, convenient to use.
Combination of high power blue led.
Small base sized design, suitable use in dental clinic.
Time display of the teeth whitening machine could shows treatment time to help dentist master treating time and progress and reduce the waiting time of patient.
Timer preset from 5-30 minutes.
Automatic Digital indicator feedback.
Light intensity- 2500mW/cm2
Wavelength-430nm-490nm
Density-150-250mw/cm2
Dimensions-L*W*H)-58*33*29 cm

US$349.00 Add to cart
Input voltage: 100-240V, 50/60Hz
Power consumption: 300W
Light resource: Six high power, fan-cooled LEDs
Wave length: 420-490nm
Clamping size: 50mm
Light intensity: 2 intensities [3000 mw/cm2 (low) and 6000 mw/cm2 (high)]
Adjustable timer: 1-20 minutesPreview Changes
Small-fits 7-8 mm and large-fits 9-11 mm diameter light guides.
Peel N' Stick.
200 pieces per box.
Soft, pliable polypropylene sleeves.
Easy to apply.
Economical
US$29.00 Select options