Description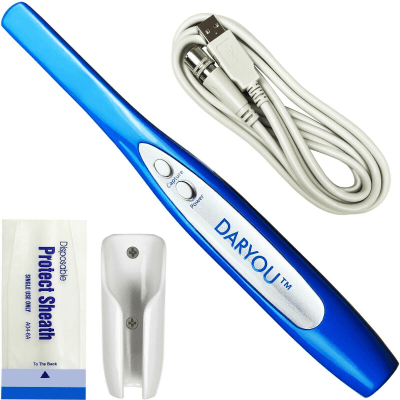 DY-50

Intraoral camera
Capture button works with most imaging software. Button driver INCLUDED
Trusted by millions.
The DY-50 camera comes with everything one needs for flawless viewing. Conveniently take and save pictures directly to your existing imaging software. Simply install the exclusive DY-50 Button Driver to fully link the camera. 
The camera comes with three licenses for clinic-wide coverage. The package includes a DY-50 owned image library software so that you can take, store, compare and print pictures using just the DY-50 camera! Simply plug-in and it's ready to go! The Button Driver is quick and easy to set up and it's compatible with the dental softwares listed below.
DEXIS, Eaglesoft, Apteryx/XV, Adstra, XDR, CDR, Schick, Tracker, Cleardent, DentiMax, ACE Dental software CaptureLink, CliniView, ProfSuni, Dentrix Ascend, Easy Dent-i, Owandy QuickVision, Apixia,Dental Eye Digora, Romexis, OneView, ExaminePro, TigerView/Visix, Tab32, Harmony, ImageXL, Triana, Handy CaptureVixWin, CADI, Dentrix Image, Carestream/Kodak/CS Imaging, Cliosoft/Sota, CurveHero, iDentalsoft, NNT, LOGOswDBSwin, Dettio, Progeny, Sopro, Sidexis XG, Sidexis 4G, Dental EMR, EvaSoft, Smartdent/Rayscan, Patient Gallery.

The integration package includes the following: three Licenses for the DY-50 Button Driver DY-50 image library software, full tech support, and direct connection to a computer USB. No other hardware and software required. It works on Windows 10/8/7. Includes an anti-fog, non-spherical lens with an automatic power-off function. Images can be saved, compared, and printed via the software provided. It also has a super-wide automatic adjusting- focus lens. Additionally,l there is life-time technical support by phone, email and remote log in.

One-year Replacement WARRANTY .
Package content and specifications
Camera X 1.

Magnetic camera holder X 1.
USB cable X 1.
Sheath X 50.
Power: DC 5V +/- .5V(1.5A) by USB.
Type of focus: Auto-focus of AF.
Resolution: 1600×1200 (Dynamic).
Video output: 640×480.
Scope of focus: 5mm ~50mm . Image format: JPEG.
Length of camera: 200mm, Cable length: 2m.
Connect port: 5 pinhole.
Weight of the handset: 34g.