Nitrile Medical Exam Gloves (Powder Free, Latex Free) 4 Mil
Mil-4
Non-Sterile
Latex Free
Made with an ultra soft premium compound
Powder-free
Case-1000 Gloves
Synthetic, made without natural rubber latex
Nitrile Medical Exam Gloves (Powder Free, Latex Free) Assorted Sizes. 3.5 Mil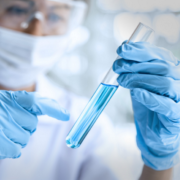 Mil-3.5
Non-Sterile
Latex Free
Made with an ultra soft premium compound
Powder-free
Case-1000 Gloves
Synthetic, made without natural rubber latex
Extreme Nitrile Examination Gloves 8 Mil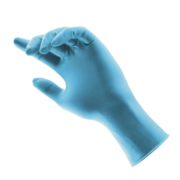 PREMIUM QUALITY: Excellent tensile strength
STRONG PROTECTION: Heavy Duty 8 mil barrier protection.
COMFORTABLE: Highly elastic extended length latex-free gloves that fit the contours of your hand without compromising protection:


NITRILE GLOVES: Powder free.
Diamond Grip Nitrile Gloves 8 Mil. Chemical Resistance, Latex & Powder Free, Textured Fingertips Gloves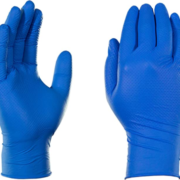 Nitrile Industrial Gloves are constructed from durable 8-mil nitrile. 
Nitrile industrial gloves feature raised diamond texture for exceptional grip. Nitrile delivers a comfort level rivaling that of latex.
Disposable gloves in high-visibility royal blue improve safety. They are a great fit for automotive, manufacturing, janitorial, plumbing, painting, and other industrial applications.


Latex-free disposable gloves are ideal for those allergic to natural rubber.
Black Nitrile Gloves 6 Mil. Chemical Resistance, Latex & Powder Free, Textured Fingertips Gloves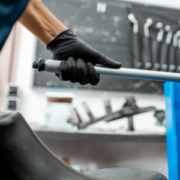 Multipurpose disposable gloves- pack of 1000 6 Mil.  Popular in janitorial industries, food service, lab work, and areas where hand protection is required.
Textured, Touch Friendly Surface- for a tougher grip on items, these ambidextrous black gloves are slightly textured, allowing for detailed work and for use with touch screens.
Powder & Latex Free.
Ultra Durable Waterproof Material- its extra strength texture allows for expanded stretching with no tearing, leaving you with a glove that doesn't rip when you put it on or use it.